PACER API
The BankruptcyWatch PACER API is hands down the most powerful and comprehensive tool available for interacting with bankruptcy data and researching case information. We provide a collection of services that make interacting with the United States Bankruptcy Courts faster, less expensive, and more reliable.
Easy Setup
Get started in less than an hour. A short conversation is all it takes to activate your account. Contact us to quickly realize the benefits that BankruptcyWatch provides.
Customized Workflow
Our API unlocks your ability to create customized workflows and streamline bankruptcy processes while accounting for differences across states and districts.
It Goes Both Ways
Our API doesn't just gather PACER data, you can also file documents and actively participate in any bankruptcy case. This means you can automatically detect, research, and respond to bankruptcy events.
Automate Any Bankruptcy Workflow
Automate your bankruptcy workflow by uniting data and processes across your entire system. Research any detail about any individual case or any group of cases, from research or loan origination to monitoring and document filing.
Scrub every contact for bankruptcy. Find bankruptcies, clean up your database, and be sure your current process is accurate.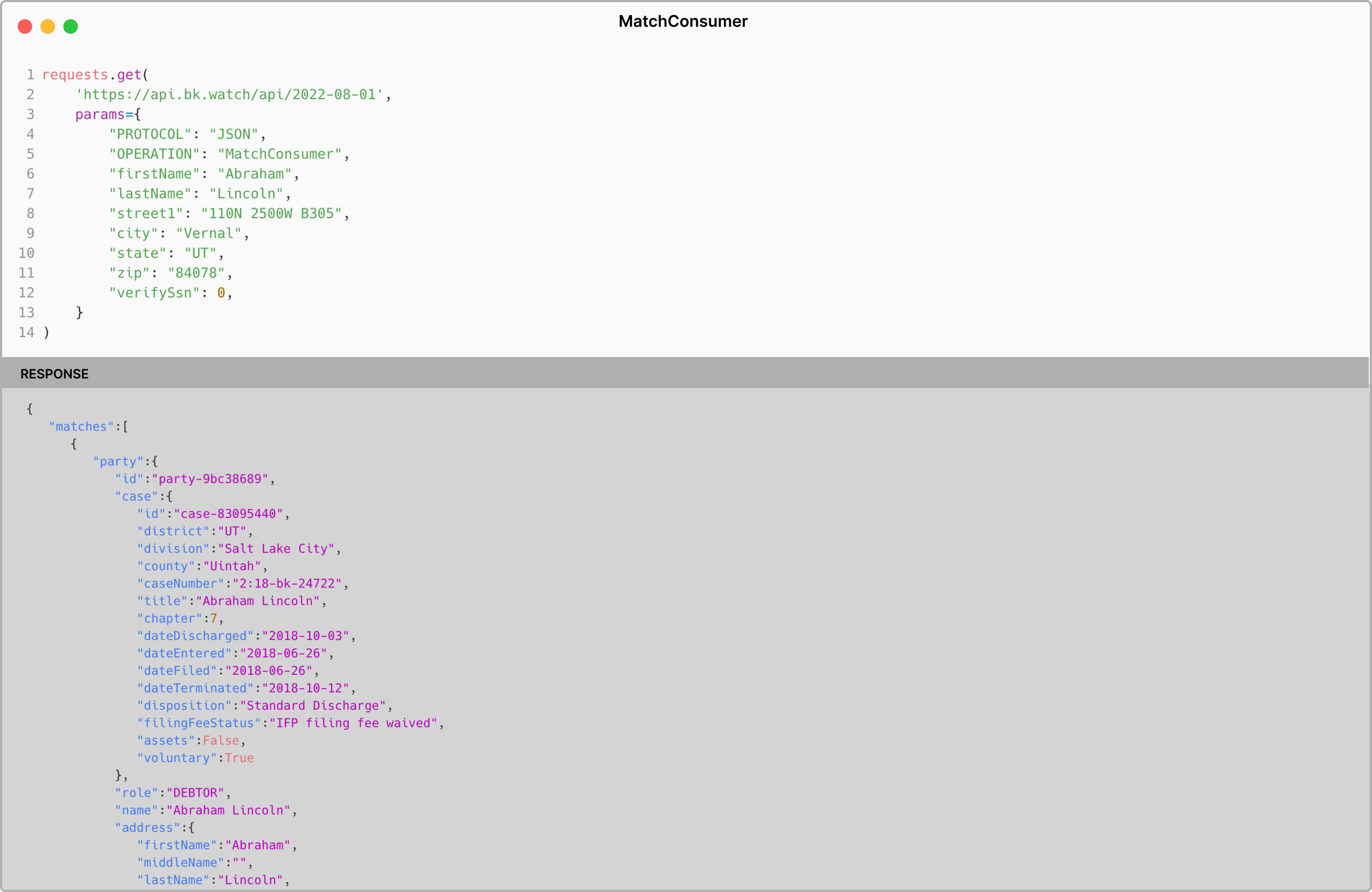 Dive Into the Details
Parse Statements and Schedules

Parse any schedule in a bankruptcy case. Receive the data through a no-code integration, as an XML document, or as a JSON file. Literally, thousands of data points are at your fingertips.

Get Docket Information

Automatically pull, organize, and incorporate docket information in real time. See everything the court knows, when they know it.

Pull Claims Information

Pull the claims register and organize claim documents. View amounts owed secured and unsecured balances. Everything you need for decision-making.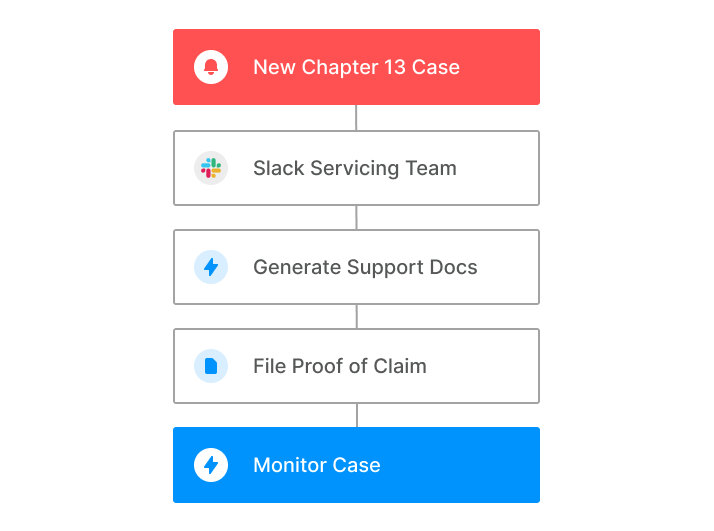 Generate and File Documents
Proof of Claim

Generate and file claims in any district.

Notice of Mortgage Payment Change

Automate the review and/or filing of mortgage payment change notices.

Reaffirmation Agreement

Find out if a Reaffirmation agreement is needed. Create, file, track, and communicate with attorneys.
Build on the Shoulder of Giants
Our API-first platform allows you to quickly build custom processes that integrate with existing tools.
Scrub Platform

No tech resources available? No problem. Scrub for bankruptcies, file claims, keep your consumer lists up-to-date, and more via our website today.

Integration

Bring your own custom workflows to our integrated platforms.

No-Code

Give your team access to BankruptcyWatch through native no-code integrations like Zapier, Salesforce, Google spreadsheets, etc.